WOMEN IN COMEDY FESTIVAL
Please note this is an 18+ event
Open Mic

5 minute sets from Dawn Rigby, Jo Fletcher-Cross, Julia Watson, Lucy Garcia and Tara Donelon hosted by Lara A King

Jo Fletcher-Cross
is a 'surprisingly angry' Scottish comedian. She has been doing stand-up comedy for just over year but people laugh and then ask her back, so it seems to be going well.
Dawn Rigby
"Pin sharp anecdotes from a life juggling a career, kids, attending weekly slimming club meeting and the joys of involuntarty flatulence … she's a very funny lady" BBC
Julia Watson
was once described as someone who "looks a bit like a comedian" and as an avid comedy punter, decided to see if she could live up to the description. She is now walking the stand-up comedy path and has caught the bug for making people giggle…with jokes, not with the way she looks.
Tara Donelon
is from Manchester and came onto the Stand-up Comedy Circuit in 2014 with her observations and personal comedic insight into her life. She can be regularly seen on That's Manchester TV on the Daily Rundown whether presenting or as a regular Sofa Guest

Lucy Garcia
moved from Germany to the uk, to learn the art of stand-up and is rocking the london open mic scene since 2015.
a charming accent and a live wire storyteller style. word plays are her strength. Her straight forward and relaxed manner of performance, will make you laugh effortless. Meet the german-spanish hybrid that combines the best of more that just two worlds.
and your host Lara A King
'Outstanding, side-splittingly funny; relatable comedy at its best' **** (AliceInReviewland.wordpress.com). 'Witty, charming and very funny' **** (BroadwayBaby.com).

The Castle, 66 Oldham Street, Manchester M4 1LE

Doors 18:15 | Show 18:30-19:30

Pay What You Like RESERVE SEATS FOR THIS SHOW
Lara A King: Not Broken, Just Bent
Award-winning comedian Lara A King likes to see the funny side.

When she got arrested and thrown into jail everyone said "you'll get some great material out of that…"

Let's see if she did.

Her tale is often touching, sometimes harrowing – but is it funny?

Can Lara A king "champion of the conversational quality of comedy", use her "natural charm" and her "fabulous demeanour" to deliver a "delightful performance" of "outstanding, side-splittingly funny; relatable comedy" and turn this tragedy into something "witty, charming and very funny – a real gem of a show"?

Only you can decide.

The Castle, 66 Oldham Street, Manchester M4 1LE

Doors 19:45 | Show 20:00-21:00

Advance tickets £6 or £8 on the door BUY TICKETS
Arielle Souma, Charlene Murray & Fatiha El-Ghorri : 3 Ladies Marmalade

Ladies Marmalade is a bill of 3 exotic women; United in laughing at our differences

Fatiha El-Gorri:

Wearing a hijab doesn't make her less funny, au contraire!

"Absolutely fantastic! Her identity is her strength & our delight. A true Jewel to comedy"  (Let's Laugh Comedy Club)

Charlene Murray:

She mesmerises her audience with her sultry voice and her quirky stories

"One of the most original act I have seen for a long, long time" (Jojo Smith)

Arielle Souma :

A strong, hilarious performer that keeps you in stitches from beginning to end.

"She is what the comedy industry needs and should be forced upon every audience until they buckle under her spell"  (Frankie Boyle)

The Castle, 66 Oldham Street, Manchester M4 1LE

Doors 21:15 | Show 21:30-22:30

£5 in advance or £7 on the door BUY TICKETS
You May Also Be Interested In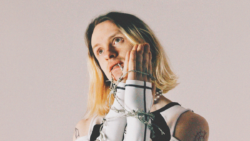 w/ Fakewife + Violet Electric
Buy tickets