SCOTT LLOYD
With guests DOM MAJOR & MARTIN COYNE
Please note this is an 18+ event
As a recently signed artist, Scott will be releasing his first single on Cornwall-based independent label Aardvark Records after they heard four new songs and asked to meet up. Scott's single Looking Out To Sea will be released on Friday 22nd June. Scott will be celebrating the release with some special shows in Cornwall and Manchester. These shows will be special acoustic shows and Scott will perform songs from his entire back catalogue as well as new songs to be released this year.
Scott's new single Looking Out To Sea goes on sale on Friday 22nd June on digital music retail sites. The song was recorded at Red Sand Studios, Chorlton, Manchester and produced by Mathieu Garcia.
–
Scott Lloyd, 29 from Middlesbrough and based in Manchester, has just signed to Cornwall based independent record label, Aardvark Records, to release his songs as singles and then to be followed by an album.
Scott's music is melodic and catchy with a folk rock feel. A combination of Neil Young and The Beatles with recognisable influences from Ryan Adams, Richard Hawley and The Smiths. Scott plays guitar and the harmonica on his recordings, as well as co-producing all his arrangements, which manage to harness the sound of live musicianship into studio sound quality.
Starting his musical inspiration from the age of 9, Scott was influenced by his father's passion for music and he took up the saxophone at the age of 12 when he started listening to swing music. Scott's teenage years brought rock and indie influences and his instrument of choice shifted to the drums when his father bought a drum kit with the intention of starting a new hobby. Edgier music began to call to Scott when he heard artists such as The Libertines, Arctic Monkeys, The Beatles, RATM and System Of A Down. These new influences inspired Scott to teach himself the guitar; followed swiftly with him forming an indie band at college called 'The Blends'.
Songwriting and the acoustic guitar became his next area of focus, listening to Bob Dylan, Neil Young, Simon & Garfunkel and Bruce Springsteen. These influences helped Scott hone his craft. After graduating from a degree in music at Manchester Metropolitan University, Scott started to plot his music career.
Scott's latest independent EP, before signing with Aardvark Records for his upcoming single releases and album, was In The Garden, which came out in 2017 at a sold out launch event in Manchester at live music venue Jimmy's. With his roots from the UK's north east, Scott's fourth EP Ironopolis is inspired by his hometown of Middlesbrough and straight after release it reached number 12 on the iTunes Singer Songwriter Charts in 2015.
Following this release, Scott was invited to an acoustic live session at BBC Introducing Tees and played at Glastonbury Festival in 2015. Scott then crossed the Atlantic to perform acoustic shows of the album on a tour from San Francisco right across to Vancouver in Canada.
Since his debut EP released in 2013, entitled Long Live You, Scott has released six EPs as an independent artist. All songs are written and performed by Scott except In The Garden which was recorded and performed live with a full backing band in 2017. Scott's other EPs are; The Northern Gate (2013), Give Me Something (2014), Ironopolis (2015) and The Game (2016).
Scott's folk indie-pop sound and songwriting has been lauded in the music and Manchester media including The Skinny, Merc, Clash, Narc, NE Volume, Telegraph Music, Manchester Evening News and Sunday Girl Magazine.
Scott has now got four songs ready for single release over the next few months. The release will be accompanied by gigs in Cornwall and Manchester and then followed by an album.
You May Also Be Interested In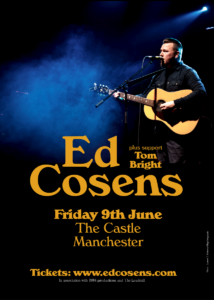 w/ Tom Bright + Test Card Girl + Rohan Young
Buy tickets