Deco Records presents Scott Lavene
w/ Blond Blood + Separator + Snooker Season
Please note this is an 18+ event
Have we ever needed great storytellers so badly? Voices to snap us out of our collective grey funk, and to lighten our days and enlighten us with their perspectives. People who can make us laugh, cry, gasp or nod sagely, to see our world anew and not feel so alone. We need stories, vignettes, new windows to look out of, and narrators to help those new visions make sense. In short, we need Scott Lavene.
Born and raised in Essex, but a man of the world who has wandered far and wide, Lavene's a storyteller who can capture all the madness, joy and frustration of life while singing about worms writhing in the ground.
In Essex, he says, you either "become a plumber or get a job in the city. I was raised by a stepdad who said, 'Get a trade – you can't do music.'" Instead, armed with a guitar and the knowledge that, at a push, he could sing and play some Beatles songs, he escaped to France, where he roamed around and lived in a tent, before returning to the UK and finding a home in Canterbury among a coterie of stoners and musicians.
He released an album as Big Top Heartbreak, 2016's Deadbeat Ballads, and followed it with his first album under his own name, 2019's droll and marvellous Broke.
The current album, Milk City Sweethearts feels like a clutch of excellent short stories set to music. Without a label, he recorded the album at home, and assembled it in a week in his mum's garage during lockdown's heavy manners. It's a warm, witty, charismatic record with a dark heart at the centre, Lavene sounding dislocated and therefore able to write his everyday stories with a left-handed brilliance and blunt honesty that keeps them so fresh.
With his stories, Lavene makes us all feel a little less alone – he's that voice in our ear who always has a tale more weird, more tragic, more funny than our own, but in whose experiences we can see our own. Laughter, tears, madness and redemption reside within this magical songs, the full spectrum of existence. You'd be a fool to miss out.
Support from:
Blond Blood
Separator
Snooker Season
You May Also Be Interested In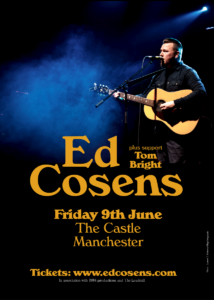 w/ Tom Bright + Test Card Girl + Rohan Young
Buy tickets