Deco Records presents Scott Lavene
Plus Special Guests
Please note this is an 18+ event
Scott Lavene is a storyteller who captures all the madness, joy and frustration of life while singing about worms writhing in the ground. His songs are talking blues, set to minimal and excellent art-rock with a pop sensibility, the honk of Roxy sax and the guttural weird-funk of Ian Dury's Blockheads haunting their grooves.
With his stories, Lavene makes us all feel a little less alone – he's that voice in our ear who always has a tale more weird, more tragic, more funny than our own.
Laughter, tears, madness and redemption reside within his magical songs, the full spectrum of existence.
Milk City Sweetheart came out in late 2020 and found supporters in the likes of Tom Robinson ("A strong contender for my track of the year") and Steve Lamacq ("Probably the best thing he's done in a bit…")
Louder Than War stated "Full of great poignant, funny and sad songs that display the man's great writing talents… At times he's David Bowie, Syd Barrett and Ian Dury at the same time."
"The work of a true artist. A master story teller and it's my record of the week by a country mile." Tom Robinson (BBC Radio 6 Music)
"Think Baxter Dury's warped kid brother." – The Times
"Can't stop listening, it's everything I like all at once." – Craig Finn (The Hold Steady)
The support itself is enough to come out for, some of Deco Records' most talented local bands in the shape of Mr. Matthew Fisher, Soup! & The Abattoir (Kieran Dobson).
Scott sold out The Castle when he played last October, so get your tickets now for this not to miss line-up.
You May Also Be Interested In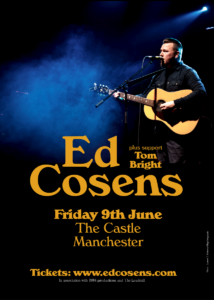 w/ Tom Bright + Test Card Girl + Rohan Young
Buy tickets