PRONTO MAMA
With guests HEADCLOUDS & THE NAVETTES
Please note this is an 18+ event
PRONTO MAMA
Glaswegian six-piece band Pronto Mama have now released their hugely anticipated debut album Any Joy, out now via Electric Honey.
Taking inspiration from their cultural surroundings, the band have created a collection of songs about hope and hopelessness, vice and virtue and how love and friendship go hand in hand with hate and jealously. Any Joy bucks the trend of countless generic indie bands recreating the same, tired old sound, instead Pronto Mama challenge the listener to think for themselves, a process that will unearth something new every time you listen.
Blending jazzy tempos, uncommon time signatures and an alternative rock attitude with progressive pop hooks and emotive vocals, Pronto Mama have created a truly mesmeric record instantly demanding your attention. On tracks such as 'Arabesque', 'Rubber' and 'One Trick Pony' Pronto Mama exhibit the brass-inspired alternative indie rock that has become synonymous with artists such as Bombay Bicycle Club and Dutch Uncles; respected contemporary bands who's sound has resonated with a generation. A more measured, introspective sound can be found on 'Bottom Feeder' and 'Sentiment'; tones and textures that traditionally run deep through the veins of many Scottish bands, inspiring the likes of Frightened Rabbit, The Twilight Sad and Admiral Fallow.
Headclouds
Their notably acclaimed first single 'Flowers' was released in August 2017, gaining extensive airplay from BBC Radio 1, Radio X and Amazing Radio, as well as high profile features on DIY and The Line of Best Fit. Their second single 'Seen It Before' was given its radio premiere by Phil Taggart on BBC Radio 1 in October 2017, going on to have extensive online coverage and airplay on BBC 6 Music.As well as earning high profile support slots with the likes of The Pains of Being Pure at Heart, The Big Moon and Frightened Rabbit in their first year, Headclouds also completed a short UK headline tour in October 2017.'All shimmering melodies, reverb-laden guitars and euphoric harmonies' – DIY Magazine'Guitars drenched in a haze of drifting reverb intertwined with ghostly vocal harmonies' – The Line of Best Fit'I hear bands every week that try to do that jangly, mid-summer pop vibe… Headclouds are well above the lot of them' – Phil Taggart, BBC Radio 1
The Navettes
Energetic male and female fronted Synth Pop band.Dominating the Manchester music scene, The Navettes have played in some of Manchesters most acclaimed venues such as Club Academy, Soundcontrol, Gorilla and the O2 Ritz; showcasing their energetic and infectiously catchy songs. Including a tour which extended through both the north and south poles of England.
Having been recently featured as participants in Yamaha's brand new Revstar guitar campaign, The Navettes have used this to take their sound to the next level showcasing the guitar and their sound over their gig filled 2017.
You May Also Be Interested In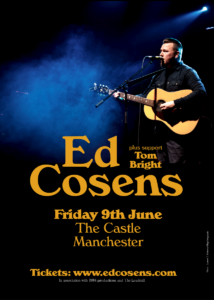 w/ Tom Bright + Test Card Girl + Rohan Young
Buy tickets