Red Balloon Music presents Native Harrow
Please note this is an 18+ event
Red Balloon Music is back with a bang for 2020 with the amazing NATIVE HARROW – direct from the US!
Devin Tuel (singer-songwriter of Native Harrow) may consider herself to be an artist meant for a different time, but she now finds herself inhabiting her own true place.
"This record is about becoming your own advocate. Realising that maybe you are different in several or a myriad of ways and that that is okay. And further, it is about me becoming a grown woman," Tuel says.
'Happier Now' is a set of nine songs recorded and mixed by Alex Hall (JD McPherson, The Cactus Blossoms, Pokey LaFarge) at Chicago's Reliable Recorders. The album was co-produced by Hall, Tuel, and her bandmate, multi-instrumentalist Stephen Harms.
Native Harrow cuts out clear and vibrant narratives on fear, love, the open road, ill-fated relationships, and coping with the state of the world.
"I wanted to share that I made it out of my own thunderstorm. I had experienced the high peaks and very low valleys of my twenties. I saw more of the world on my own, got through challenges, revelled in true moments of triumph… but all the while the world around me was growing louder, wilder, and scarier. Music for me is a place to be soft. This album was my place to feel it all."
Happier Now's nine songs were written during three back-to-back tours across North America supporting the band's second album 'Sorores'. The album was recorded in just three days in March 2018 during what Tuel jokingly calls "downtime" in the middle of the gruelling 108 date tour.
Happier Now oscillates between feeling the sting of uncertainty ("Can't Go on Like This"), the beauty of California ("Blue Canyon") and the ache for lavish stability ("Way to Light").
You could say Tuel wears her heart proudly on her sleeve, but that'd be underplaying the exact gravity of her stories. Each starlit image is framed within her warm, enveloping vocals and the careful, profound considerations of Harms' musicianship.
Start to finish, the new record pours forth from her very bones, and you get the overwhelming sense she has never been more daring and honest than right now.
You May Also Be Interested In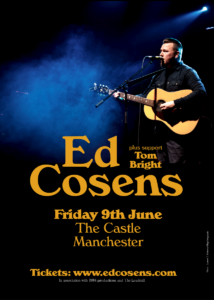 w/ Tom Bright + Test Card Girl + Rohan Young
Buy tickets