Live Nation presents VÉRITÉ
Please note this is an 18+ event
In the little-over-a-year since she performed her first live show, VÉRITÉ has already packed in a career's worth of highlights: performing at massive festivals like Lollapalooza and Firefly; surpassing 10 million streams on Spotify with her two critically acclaimed EPs, 'Sentiment' and 'Echo'; crisscrossing the US and Europe for her own headlining shows as well as opening for big names like Stars, MS MR, and Tove Lo; and amassing a mountain of critical praise everywhere from Buzzfeed and Billboard to Nylon and SPIN. As Vice's Noisey pointed out, "it's temping to label VÉRITÉ as an overnight sensation. But everyone knows there's no such thing—and nobody understands this more than the rising New York musician herself."
VÉRITÉ grew up in a musical household where she was encouraged by her father and addicted to alternative radio. She began covering The Cranberries and Four Non Blondes at open mic nights, started a punk cover band at the age of 13, and by 16, was writing her own material.
"One day I kind of woke up and just realized I should be writing my own songs," she remembers. "It just came so naturally."
VÉRITÉ was working at an Applebee's in Manhattan when she was first introduced to producer Elliot Jacobson over email. For the first six months of their collaboration, the two never spent a minute of their time in the same room together. Encoded in discreet packets of 1's and 0's, they traded verses and choruses, synths and vocals, drums and bass back and forth online, crafting and refining and polishing all the while. Two years later, those digital seeds came bloom with her debut release, the 'Echo EP.'
It's a collection that defies easy categorization, tight and danceable with alt-pop sensibilities and a dark emotional undercurrent haunted by her silky voice. BuzzFeed hailed lead single "Strange Enough" as one of the best songs of the summer, and SPIN praised her "incredibly strong club-ready cuts," naming her one of five new artists to watch. Upon its release, the track hit #1 most viral on Twitter and earned her the #1 spot on Hype Machine, along with additional love from Harper's Bazaar, Nylon, Refinery29, Idolator, and more. She followed it up with the 'Sentiment' EP, whichTIME called "gorgeous," hypnotized by "the complex electronic arrangements" and "rich and ethereal vocals."
VÉRITÉ writes with little regard for genre, blending together the influences of her youth with distinctly modern sensibilities that sound equally at home on headphones as they do echoing out over enormous festival crowds. What binds together the disparate sounds of her synth and percussion-driven songs, though, are the intimate threads of her emotionally charged lyrics.
"When it comes to the words, I wind up writing everything stream-of-conscious and then editing from there," she explains. "I think the songs really just wound up writing themselves in that way. I remember sitting down and writing 'Strange Enough' in one sitting. There's a theme in that song that runs throughout the whole 'Echo EP,' which is about questioning our capability to truly love and be in love."
The notion of apathy and the struggle to find meaning (both from within and from those closest to us) comes up throughout the songs on both releases. It's something she still grapples with as an artist today, though as her career continues to rocket skywards, her writing process has had to evolve.
"It's a different experience writing now because I don't wait tables anymore," says VÉRITÉ with a laugh. "Those EPs were written in little time slots when I wasn't working, so I would sit down for an hour or two and have to write songs in very short bursts. I've gotten to quit the day job, though, and now I have a lot more time to dedicate to writing. With this next batch of music, I'm taking these tiny moments and snapshots and blowing them up and hyper-analyzing them. It's much more cerebral and analytical in that sense."
The end result is still the same stunning, poignant, gut-punch of emotional intensity that marked those breakout EPs. Instead of shying away from painful moments of self-doubt, VÉRITÉ inhabits them with a rare artistic grace and confidence. Onstage, she channels all those emotions into a captivating and unforgettable presence. Centered around her riveting vocals and fueled by the razor-sharp performances of her band rather than relying solely on backing tracks and samples, her live shows are brimming with energy and human connection.
It's difficult to believe we've only just met VÉRITÉ, but considering all she's accomplished in just a year, it's clear we'll be getting to know her for a long time to come.
You May Also Be Interested In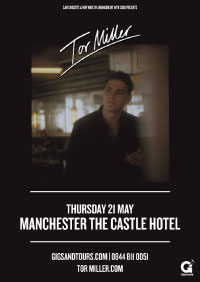 Featuring Nibh Vulputate Fermentum
Buy tickets