Strange Days presents Junior Brother
Please note this is an 18+ event
An idiosyncratic, challenging and richly lyrical singer/ songwriter, Junior Brother is the pseudonym of Co. Kerry, Ireland singer Ronan Kealy. Chosen as one of RTÉ's Rising Irish Stars of 2018, and as one of The Irish Times' contenders ready to break through in 2019, Junior Brother has built a rabid following thanks to unmissable live shows, and music both excitingly forward-looking and anciently evocative. His strange stories unfold with reckless abandon upon an idiosyncratic Guitar and Foot Tambourine accompaniment, influenced as much by the avant-garde as music from the middle ages and his home place in rural Ireland.
Junior Brother has been steadily building a fanbase around Ireland and beyond, winning hearts in iconic venues such as Vicar Street (Dublin), The Beacon Theatre (New York), Cork Opera House (Cork), Blackpool Opera House (UK) to name just a few. He has played support for a variety of like-minded acts such as The Proclaimers and Glen Hansard, the latter bringing him on a tour of the US East Coast in July 2019.
Junior's unique work was acknowledged with 2 nominations for the 2019 RTÉ Radio 1 Folk Awards, for Best Folk Album and Best Emerging Folk Act. He has been aired on such broadcasters as BBC6 Music, 2fm and RTE Radio 1. His debut album "Pull The Right Rope" was released in May 2019 to high press acclaim, and vigorous approval from figures such as the Rubberbandits and Cillian Murphy, the latter playing Junior Brother several times on his BBC6 Music Radio Show.
You May Also Be Interested In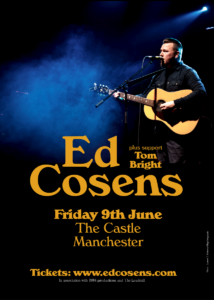 w/ Tom Bright + Test Card Girl + Rohan Young
Buy tickets