JOHN METCALFE (DURUTTI COLUMN)
Please note this is an 18+ event
FEATURING DAISY PALMER (RAE MORRIS) –  DRUMS,  ALI FRIEND (RED SNAPPER) – BASS AND ROSIE DOONAN (BIRDY) – VOCALS.
Ex-Durutti Columnist and New Zealander John Metcalfe is one of the most sought after musicians in the business, whether arranging for the likes of Blur, Morrissey and Coldplay, co-producing albums with Peter Gabriel, or as violist in the renowned Duke Quartet. Whilst in Durutti he, alongside Tony Wilson, launched the pioneering Factory Classical on Manchester's legendary Factory label signing artists such as Steve Martland and Rolf Hind. He also performs and records with the Max Richter Ensemble.
For his first Castle Hotel appearance he is performing music from his latest solo album 'The Appearance of Colour', out on Peter Gabriel's Real World label. Described as "effervescent, divinely beautiful, packed with Eno-esque passages of ambience and glistening guitar lines worthy of Vini Reilly" by Clash magazine and 'staggeringly beautiful' by 6Music's Mary Anne Hobbs the album beautifully unites the disparate strands of his kaleidoscopic musical world. Within the album are powerful rhythmic strings evoking the world of systems music, moments of transcendent solo piano, shimmering electronics and guitar, elements of drum and bass, and of chamber music. For these live shows Metcalfe's has assembled an incredible line up of musicians from the worlds of post-classical, electronica and pop: the crisp, jazz-influenced beats from Rae Morris' drummer Daisy Palmer, deeply felt groove from Red Snapper's bassist Ali Friend and the exquisite voice of Rosie Doonan, fresh back from touring with Birdy.
"Self-tagged as "post classical" and "electronic", it's genuinely beautiful, striking a perfect balance between classical music, ambient, and IDM, amongst other things, showing that delicacy and a subtle touch doesn't and needn't always equate to a lack of energy or kineticism: the album runs wild with it". The 405
"Very beautiful" – Lauren Laverne Headphone moment
**** MUSICOMH
You May Also Be Interested In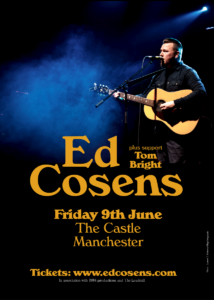 w/ Tom Bright + Test Card Girl + Rohan Young
Buy tickets