Harriet Rose
Please note this is an 18+ Event
Gigging since the age of 12, Harriet Rose's music and performances have been highly acclaimed everywhere and she is well known for her ability to draw the audience in and have them hang onto every word.
​
The multi-instrumentalist prides herself on offering a unique Indie/Americana sound with a blend of powerhouse vocals and catchy guitar hooks. Harriet's songs are often inspired by her own life; the triumphs, trips and tumbles.
Harriet is currently in the studio recording with Ed Cosens (Reverend and The Makers) and has recently supported Peter Doherty (The Libertines,) Jon McClure and Andrew Cushin.
She describes her own music as "a mix of my dad's youth and mine. I was completely influenced until my mid-teens with tunes from The Smiths, Fairground Attraction, Beautiful South – anything my dad grew up on really. When I write, there's definitely a blend of those older vocals with the contemporary indie melodies which I listened to through choice…"
Labeled by some as a '360 artist', in addition to the song writing Harriet takes responsibility for all aspects of her career. Her determination to succeed is evident in the effort and passion she pours into her artistry, which goes unmatched.
"When Queen famously played Live Aid, they stripped out all unnecessary parts of their songs to leave the pure essentials ensuring as much as possible could be squeezed into their allocated slot. We were reminded of that while watching the Harriet Rose Band who dispensed with such frivolities such as giving song introductions and just concentrated on delivering a set that left you invigorated and glad to be alive to have seen it, packed full of vitality and energy let alone excellent singing and musicianship." – W21 Music
You May Also Be Interested In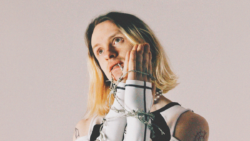 w/ Fakewife + Violet Electric
Buy tickets