DHP Presents : BRYDE
Please note this is an 18+ event
Captivating new London (via Pembrokeshire) solo-artist Bryde is now two EPs into her career, having released the stunning, Bill Ryder-Jones produced "EP2" in November 2016.
Featuring the amped-up singles "Honey" and "Wouldn't That Make You Feel Good?", the release received press coverage from the likes of Sunday Times Culture, Consequence Of Sound, The Line Of Best Fit and CLASH, and airtime on BBC Radio 1, 2 and 6. Alongside "EP1" and the formative "Chocolate Factory Sessions", it has cemented Bryde's position at top table of new electric guitar-wielding, lyrically-biting female artists alongside the likes of Angel Olsen, Mitski and St. Vincent.
2016 has been a very busy year on the live circuit for Bryde: highlights include opening for Rufus Wainwright at Brighton Dome, well-received festival sets at Dot To Dot, Green Man and Swn, two sold-out London headline gigs (The Slaughtered Lamb and The Courtyard Theatre), her debut US dates in New York, Nashville and Los Angeles and her maiden UK headline tour in November.
With more new music and some European dates in the pipeline for early 2017, the year ahead is set to be as fast-paced as the last.
"Her vocals are to singing what Cailtin Moran is to wording, 'ballsy' " – Fresh Net.
"The song is a showcase of Bryde's impressive vocal range, although her most exceptional vocal quality lies in her ashy timbre and seemingly uncalculated vibratos. It's these perfect blemishes that imbue her music with a certain convincing vulnerability not normally present in singles from the usual pop titans." – Earmilk
"A female soloist gathering a lot of interest …. helping her stand-out amongst a great tide of very good female artists such a Lapsley." -Never Enough Notes.
"It bends but does not break, with the insolent sorcery of Sharron Van Etten or PJ Harvey"
Les Inrocks
Single of the week – "[Help Yourself] glides, soaring skyward through its powerful and emotive choruses, headstrong. It's clearly cathartic, but not just aimless and explosive, it is instead guided and direct with a complete conviction in itself. A strong but raw vocal performance only enhances the earnest lyrical sentiment." – Cultured Vultures.
"There is so much beauty in Sarah's voice: the huskiness of Gemma Hayes, lightness of Laura Marling and sensitivity of Jeff Buckley — beauty that is hard to define, which is a big compliment." – Fresh on the Net
"Surely you've left some room on your year-end, best-of lists, because "Wait", the electrifying new single from Brixton-based singer and songwriter Bryde, will require a spot in its upper reaches. " – The Autumn Roses
"Bryde's first offering is a tender, wiry piece of tearjerk folk-pop. The swirling, swollen textures and rippling electric guitars bear resemblance to Daughter or HAWK, but Bryde keeps everything very much her own with country-flecked melodies, bouts of silence, and pristine vocals."
The Line Of Best Fit
You May Also Be Interested In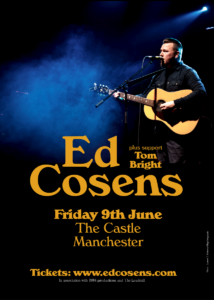 w/ Tom Bright + Test Card Girl + Rohan Young
Buy tickets