Red Balloon Music presents Annie Dressner [Postponed]
Please note this is an 18+ event
Since moving from her hometown of NYC to the UK nine years ago, singer-songwriter Annie Dressner has garnered rave reviews for her recordings and live performances. From her debut 'Strangers…', her EP 'East Twenties' and her second full-length 'Broken…' produced by Nigel Stonier (Thea Gilmore), Dressner has gone from strength to strength. Her straightforward lyrical style, sharp ear for wordplay and crisp, lilting vocals offer listeners a front row seat to her stories. Her music has drawn comparisons to an up-tempo Mazzy Star, an understated Jenny Lewis, Soccer Mommy & Phoebe Bridgers.
Annie's songs have received considerable airplay on,Radio 2 and 6 Music (Gideon Coe, Tom Robinson, Steve Lamacq, Tom Ravenscroft) and Radio 1 via her cowrite with Saturday Night Gym Club 'The Nowhere Team.'  She just released her third studio album, 'Coffee At The Corner Bar' with her husband / producer Paul Goodwin (a singer/songwriter in his own right). Along with a set of new original songs, the album includes a Magnetic Fields cover & a co-write with Matthew Caws of Nada Surf.
Annie has collbaroated and co-written songs with The Last Dinosaur, Saturday Night Gym Club, Matthew Caws, Polly Paulusma, Nigel Stonier & Tim Gordine.
Annie has performed at the Green Man Festival, Secret Garden Party, Cambridge Folk Festival, Cluny2, Green Note, Norwich Arts Centre, Cambridge Junction, Night & Day among countless other venues and has shared stages with Echobelly, Emily Barker, Simone Felice, The East Pointers, Lucy Wainwright Roche & Fossil Collective. Last February she co-headlined tours with Polly Paulusma & Luke James Williams. Her music is also in Crucible Films' 'Drive Me To The End" directed by Richard Summers-Calvert.
Recently, she was shortlisted for Female Artist of the Year 2020 by Fatea Magazine.
You May Also Be Interested In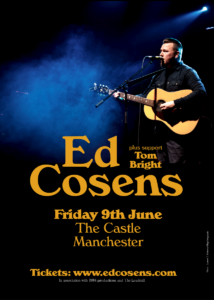 w/ Tom Bright + Test Card Girl + Rohan Young
Buy tickets